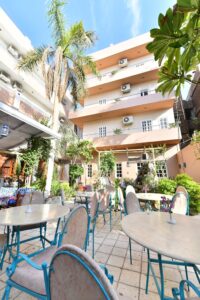 The Amon Hotel is a peaceful haven amongst the hustle and bustle of modern Egyptian life. With a wonderful tropical garden and a peaceful and relaxing environment, this hotel is truly unique. Offering views of the lush vegetation of Luxor's West Bank, the hotel is also in the heart of village life and yet far enough away for the visitor to enjoy one of the best experiences in Upper Egypt.
The hotel is owned by Ahmed Mahmoud Soliman, and his son Mohamed is the manager in conjunction with our German partner Herbert Drücke. With their friendly helpful staff the visitor will have a truly unique Egyptian experience.
People from all over the world choose to stay at the Amon Hotel. Once seen, it is easy to understand why – the hotel is spacious, clean and well planned to be away from the noise of Luxor's West Bank whilst being ideally placed within it's centre.
The sights of the Theban tombs and temples are within walking distance, if you feel energetic enough. If not, we can arrange a wide variety of transport including taxis, minibuses, bicycles or even donkeys!
The hotel is close to riding stables, where you can enjoy horse or camel riding, and for the adventurous, quad bikes are available for trips into the desert. It's true to describe the Amon Hotel as your Home from Home in the land of the ancients.
As well as ensuring your stay with us will be a memorable experience, we will be pleased to organise visits to the sites outside of Luxor – the temples of Abydos, Dendera, Esna, Edfu and Kom Ombo, and visits to Aswan, Hurghada and Cairo (including accomodation where required).
We also offer tours to the oases of the Western Desert, and will be pleased to organise one to your specific requirements – please contact us for details of these tours.